We're delighted to welcome Alpine Aire Foods as new sponsors. They are supporting the WildeBeat by providing a Three Day Gourmet Instant Meal Kit as a thank you gift to new WildeBeat members. This kit retails for $55.70.
If you join as a full member ($48/yr.), or above, we'll thank you by sending you a coupon for one of these kits. The kits include: All American Roast Beef Hash, Beef Rotini, Mountain Chili, Pasta Roma, Peanut Butter and Cracker Lunch, Spaghetti Marinara with Mushrooms, Alpine Minestrone Soup, Strawberry Honey Granola with Milk, Apple Almond Crisp, and Chicken & Almond Salad w/Crackers.
Not only that, but you'll get all the other regular benefits of being a WildeBeat member: Access to discussions and premium content on our WildeBeat Insiders Web pages, a subscription to the the award-winning Earth Island Journal, and most importantly, the feeling of having helped others explore and appreciate our wild public lands.
Now you have one less excuse for not getting into the wilderness. We've got your meals taken care of!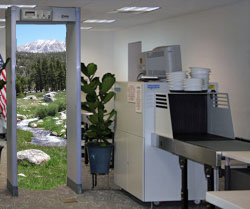 This skills program looks at packing your gear for air travel to a distant trailhead. Air travel can be a hassle if you don't plan ahead and prepare.
We hear a phoned-in comment from listener Jeremy Sullivan. He relates a situation when he had difficulty traveling with his camping gear. Steve meets with Robert Cassidy, a hazardous materials specialist for the Federal Aviation Administration. Robert provides a lot of helpful information, but he explains that in the end the Transportation Security Administration has the final say at the security checkpoint about what you can take on an airliner. Steve talks to Nico Melendez by phone. Nico is the Pacific Region spokesman for the Transportation Security Administration.
You can find additional information to help you identify hazardous materials to avoid taking on an airplane on the FAA's Hazardous Materials Information for Passengers page. More general information on planning ahead and preparing for air travel with your backcountry gear can be found on the TSA's Air Travel Tips pages. In particular, they have a page devoted to traveling with camping gear.
WildeBeat members can download an extended interview with Robert Cassidy of the FAA, from our WildeBeat Insiders web pages.
This edition was made possible by:
Have you ever travelled to a wilderness trailhead using a major commercial airline? If so, what difficulties did you have taking your gear? Did you have to leave anything behind at a security checkpoint? When you claimed your checked bag, did you find that your gear was searched-through and it's contents disturbed?
We'd like to hear your comments for possible use in next week's show. Please call-in your stories to our toll-free (in the U.S.) comment line: 1-866-590-7373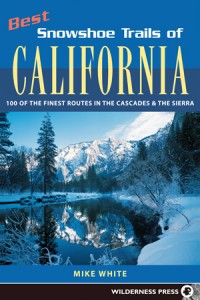 This wild places program presents a guidebook author's favorite places to snowshoe in California. Yeah, it's spring, but there's still a lot of nice snow up there.
Mike White, author of Best Snowshoe Trails of California, tells us what he actually thinks are the very best snowshoe trails in California. He picks trails that start at this trailhead, and at this trailhead.
Mike introduced us to snowshoe hiking two weeks ago, in our edition number 129, A Snowshoe Primer. Mike also mentions the option of staying overnight in a backcountry hut; one of the places we mentioned in our edition number 111, a reprise of Indoor Snow Camping.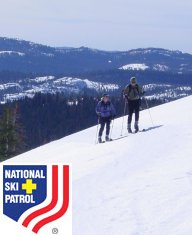 This outings program takes us on a patrol day with the Lake Alpine Nordic Ski Patrol. You can have a great time while helping others by joining a ski patrol.
Steve joins the patrol skiing in the backcountry near Bear Valley, California. We hear from Charles Schafer, the patrol director for the Lake Alpine Nordic Ski Patrol. His group is affiliated with the Far West Division of the National Ski Patrol. Charles talks about the reason they're out there skiing the backcountry: To provide assistance to backcountry skiers and to make their experience safer.
After the tour, Steve talked with Jeff Gurrola, the Nordic Supervisor for the Far West Division of the National Ski Patrol. Jeff talks about how you can join up with a backcountry ski patrol.
To join a ski patrol in your favorite backcountry area, you can start by contacting the National Ski Patrol and finding out about which areas near you have active patrols. Call their national office in Colorado at 303-988-1111.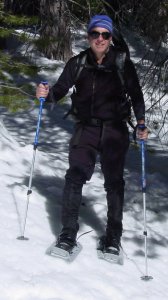 This skills program presents an introduction to winter hiking on snowshoes. If you can hike, you can snowshoe.
Steve takes a hike with author Mike White, who wrote the books, Best Snowshoe Trails of California, Snowshoe Trails of Yosemite, and Snowshoe Trails Tahoe. A couple of weeks ago, they hiked out and back a couple of miles in the Tahoe National Forest near Donner Pass in California.
Snowshoe hiking is the easiest way to start exploring the wilderness in the winter. Mike explains the gear you need, and how to get started.
WildeBeat members can download an extended interview with Mike White featuring more detailed tips for getting started, from our WildeBeat Insiders web pages.
In response to our two-part program, Scared Indoors, we saw quite a bit of lively discussion in various forums online...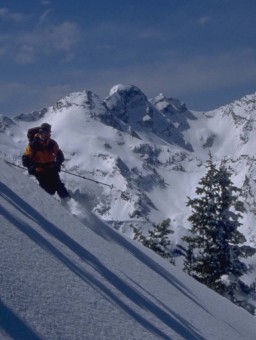 This wild places program provides a ski guide's advice on how to get away from the crowds at the very popular ski resorts in Utah.
Guest correspondent Kurt Repanshek visited the Mill Creek trailhead in the Wasatch-Cache National Forest near Salt Lake City. There he met backcountry ski guide and guide book author Tyson Bradley. Tyson wrote the book, Backcountry Skiing Utah.
Tyson talks about the many mountain ranges in Utah that provide a wide range of exceptional opportunities for backcountry and wilderness skiing, whether you're an advanced-beginner cross country skier, or you're an expert alpine or telemark skier. He points out that if you are comfortable on your skis, and you're fit enough to hike three miles and gain a thousand feet, then you're plenty fit to get into the backcountry on terrain appropriate for your skills.
Tyson also mentions that sometimes in the deep, dry snow of Utah, you might have a greater chance to be at risk from avalanches. Our edition number 74, Staying on Top of the Snow, provides an introduction to avalanche safety. One of the most important things to do before you go out is to check with the Utah Avalanche Center for the day's forecast.
Kurt Repanshek regularly writes and occasionally podcasts on his National Parks Traveler web-zine.
In our edition number 125, titled "Forest Admission?" we read from the online writings of Tom Martin, co-director of the Arizona-based non-profit, River Runners for Wilderness. Tom wasn't available for an interview before our production deadline for that edition. Yesterday, Tom called in this comment about our story. After Tom's comments, and Steve's response, we include a a comment by Dave Simon, director of outdoor activities for the Sierra Club, about the range of reaction to the proposed Forest Service rule.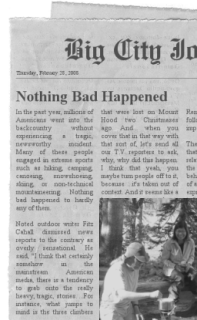 This wild places program is part 2 of an exploration of how mass media might be affecting people's interest in getting into the wilderness. (Part 1 is here.)
They came, they saw, they almost bought it; are these the kind of stories that inspire you to get into the wilderness? Do they represent the normal experience of a wilderness visitor?
Steve answers this question with the help of:
Our thanks to Fitz Cahall for supplying the recording of his interview, and for permission to use an excerpt from his show, No Big Deal.
WildeBeat members can download extended bonus interviews with Andrew Skurka and Ryan Jordan from our WildeBeat Insider's web pages.
In last week's program, Scared Indoors, part 1, We asked for your examples of scary or reassuring mainstream media stories about wilderness travel. A couple of people wrote in...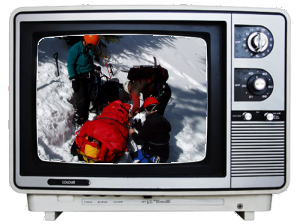 This wild places program asks how mass media might be affecting people's interest in getting into the wilderness. They came, they saw, they almost bought it; are these the kind of stories that inspire you to get into the wilderness?
Steve explores this question with the help of:
We'd like to include some of your comments in next week's part 2. Can you give us examples of mainstream media you've read, listened to, or watched that scared you away from trying what you saw? Better yet, how about examples of mainstream media describing wilderness adventures that seemed completely within your reach and looked like a good time? Let us know by calling our toll-free comment line at 866-590-7373.
Next week, in part 2, we'll try to answer the question that this week's program asks.
Our thanks to Fitz Cahall for supplying the recording of his interview, and for permission to use an excerpt from his show, No Big Deal.
Jim Bedwell from the National Forest Service in Washington, D.C contacted us to update a detail in yesterday's show:
A factual correction (and I should have mentioned it as it was posted the day we did the interview) is that we have extended the comment period to March 20, 2008. That will make the comment period a total of 150 days, hardly a "stealth tactic".
You can read the official notice of the extension of the comment period here: Notice of Extension of Public Comment Period
We'd also like to clarify that it wasn't our intent to assert that the Forest Service was trying to implement these rule changes without public scrutiny. Rather, our comment in the story describing the proposed rule changes as a semi-secret document was meant to be a comment on the relative lack of mainstream media coverage this issue has attracted.
Reminder:If you join as a full member ($48/yr.), or above, we'll thank you by sending you books. Read about it here.
Wilderness Press has just provided us another book to offer you as a thank you for supporting the WildeBeat: Outdoor Navigation with GPS by Stephen Hinch
We interviewed Stephen Hinch for our recent edition number 124 of February 7th, 2008.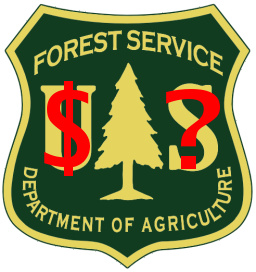 This wild places program examines proposed rules affecting outfitter guides in the National Forests. Will these rules make it harder, or more expensive, for you to get into Forest Service wilderness?
Steve explores the issue with the help of:
The Forest Service issued a proposed rule change titled, Proposed Directives for Forest Service Outfitting and Guiding Special Use Permits and Insurance Requirements for Forest Service Special Use Permits. This rule is open for public comments through February 19, 2008.
An Arizona-based group, the River Runners for Wilderness, sounded an ominous alert about some possible problems with this rule in November of 2007. Later, the Casper Star-Tribune published an article by Brodie Farquhar presenting the controversy.
We suggest you take a look at the revised rules yourself, and then make your own comments to the Forest Service if you think your access will be affected.
WildeBeat members can download bonus extended interviews from Todd Vogel and Jim Bedwell from the WildeBeat Insider web pages.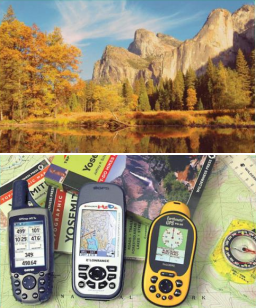 This skills program discusses things you need to know before relying on a portable GPS receiver. Finding your way there and finding your way home is not always so easy in the wilderness.
Steve talks with author Stephen Hinch who wrote the book, Outdoor Navigation with GPS. Stephen is a high-tech executive with technical knowledge of the GPS system and a love of wilderness travel.
A GPS receiver can make navigaton easier, but what do you need to know to use it, and what do you need to know when it's not making it easier? What should you look for if you're shopping for one? What's the easiest way to use one in order to keep from getting lost?
Stephen also mentions orienteering as a great way to learn navigation skills to use when you can't use GPS. Through the U.S. Orienteering Federation, you can find a local club that can teach you more traditional navigation skills.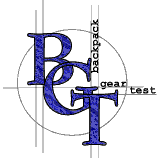 This gear program is a report on the Winter 2008 Outdoor Retailer's Expo. What's cool in next year's winter gear?
Jason Boyle and Christopher Nicolai report on the most interesting gear they hope to test for BackpackGearTest.ORG. They comment on products by: GoLite, Rab, Patagonia, Mountainsmith, MontBell, Cilogear, Aspen Aerogel, Easton, Garmont, and Teko Socks.
As a wrap-up, Backpack Gear Test founder Jerry Goller tells us that they get more gear to review than their reviewers can keep up with. You might be able to get free gear to review. Read: How to become a tester.
We're offering discount coupons to WildeBeat members, but these deals expire soon (between February 4th and March 15th, 2008). These coupons allow you to order outdoor gear online at dealer cost or below. We have a limited number of coupons for products by Patagonia, Outdoor Research, Helly Hansen, Suunto, Zeal, Ogio, Mammut, and Kayland.
Our members can claim a coupon by logging-in to the WildeBeat Insider web pages. You can become a WildeBeat member right now by making your tax-deductible donation online.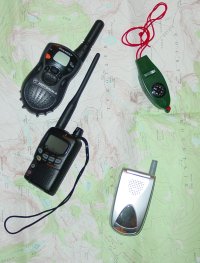 This skills program is an overview of some of the ways you can call for help from the wilderness. Have you ever thought about how you'd get help if you needed it? Out of all the different ways you could let somebody know about your situation, some of them work better than others. This is an updated version of our program number 37 of April 13, 2006.
Steve talks about simple signaling techniques, like whistles, signal mirrors, and smoke signals, and then discusses various phones and radio technologies. He talks to Caroline Semerdjian at Sprint-Nextel. She mentions a page to find out their network coverage by zip-code. We replay a comment by Sgt. Phil Caporale of the Fresno County Sheriff's search and rescue unit from A Winter Storm Warning (our editions #15 & #16), where he talks about problems with satellite phones.
Steve talks to Bill Jeffrey about amateur (or "ham") radio. Bill created and maintains a web site called the Pacific Crest Trail Repeater Guide. Amateur radio is still the primary choice for most volunteer search and rescue organizations.
We also hear about Personal Locator Beacons (PLBs) from Doug Ritter, a survival skills consultant and journalist who operates the Equipped to Survive Foundation. Laurel Boyers, who recently retired as Yosemite National Park's wilderness manager, talks about how easy access to rescue services makes the wilderness less wild. Finally, we hear from Tim Kovacks of the Mountain Rescue Association.
Links to more information about a number of these communication and signaling options are listed in the pages linked below, under To Find Out More...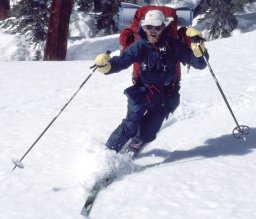 This skills program is an interview with Marcus Libkind. This is a reprise of our program number 21 of December 1, 2005.
Marcus wrote the most comprehensive and widely used trail guides for backcountry ski tours in the Sierra Nevada:
Marcus has moved these guides online to his Ski Tours in the Sierra Nevada web site. He will add tours to this site one by one as soon as they are field checked for updates. The whole site is about your participation—he invites you to explore his routes and then submit updated information about the ski tours from his books. Also, you can suggest new tour routes for this online guide.
If you want to get started exploring the backcountry on skis, Marcus recommends getting lessons and practice at groomed-track cross-country ski resorts first. The Cross Country Ski Areas Association has a directory of cross country ski trail systems. One good beginner's guide to winter backcountry skills is Allen & Mike's Really Cool Backcountry Ski Book.