A Winter Storm Warning, part 2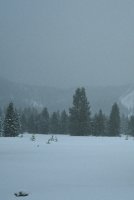 This skills program tells the rest of the story of backpacker Mike Bargetto and his three relatives, who were caught in an unexpected snow storm in October of 2004. The story describes their rescue from their Rae Lake camp site, in California's John Muir Wilderness.
The rescue was lead by Leutenant Phil Caporale, of the Fresno County Sheriff's Search and Rescue unit. He and Mike tell the story of the rescue from both perspectives.
Steve wraps up the show by talking about how you can be better prepared for unexpected mountain storms, and how to stay safe in such conditions. See the supplemental links, below, for lots of additional information.