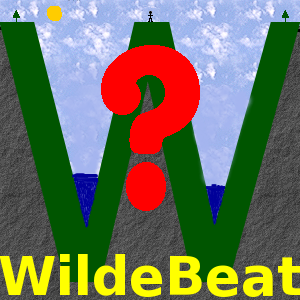 In this program we take you behind the scenes to learn about how we put together our shows. Just what goes into producing an edition of the WildeBeat?
From fixing your feet to using your head, from camping in the snow to backpacking in the desert, we've spent two years finding ways to help you get into the wilderness. The WildeBeat is a free public service to help you discover, and get the most out of America's wild public lands. And while the show is free to you, it costs us a lot to bring it to you.
With your support, we can continue to bring you our weekly features. Without it, we'll have to cut back on what we're doing -- a lot. Please join us, and give us the support we need to bring you the next hundred editions of the show.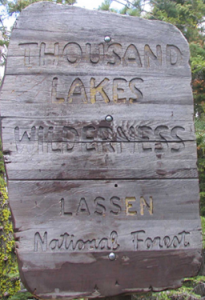 This wild places program is part one of a visit to the Thousand Lakes Wilderness in the Lassen National Forest. This small, 25 square-mile wilderness shouldn't be judged by its size.
The Thousand Lakes Wilderness is just north of Lassen Volcanic National Park, which we explored in our edition numbers 96 & 97. While national parks are high-profile places that attract a lot of attention, nearby national forest wilderness areas are often overlooked.
Steve talks with Jan Sorochtey, the recreation officer for the Hat Creek District of the Lassen National Forest. Steve hikes to the largest lake in the wilderness, Eiler Lake, with patrol ranger Don Mason. They encounter an over-used campsite on the lake shore.
If you want to plan a trip to the Thousand Lakes Wilderness, you should start by contacting the Hat Creek Ranger District of the Lassen National Forest. Jan Sorochtey says that they don't require any permits. But take note, there is a complete campfire ban for the summer and fall of 2007.
In this week's edition number 99, Andy Mytys of BackpackGearTest.org described the SPOT Satellite Messenger as a potentially cost-effective alternative to the Personal Locator Beacons (PLBs) that Doug Ritter of the Equipped to Survive Foundation recommended in our edition numbers 78 & 79, titled Counting Up Essentials.
The SPOT Satellite Messenger, as well as a conventional PLB, are devices that are designed to summon search and rescue services in life-threatening situations. They're proven to be more reliable in remote locations where more conventional communication techniques might be ineffective.
Andy's preliminary impressions of the product, before actually having one to test, is that it promises to provide more user-friendly features than a PLB, for less than a quarter of the price. While it's too soon to tell whether this claim is true, or too good to be true, Doug Ritter has published a more thorough analysis of this product.
If you want to know more, you can read Doug Ritter's article, First Look, SPOT Satellite Messenger.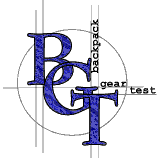 This gear program is an overview of some of the new gear exhibited at the 2007 Outdoor Retailer Summer Market. Steve intervews testers from BackpackGearTest.ORG in Salt Lake City, Utah.
Andy Mytys comments on the SPOT Satellite Messenger, new tarps by Go Lite, and new products by Sea to Summit. Jennifer Koles comments on the Magellan Triton GPS receiver and National Geographic Topo! maps. Jason Boyle comments on a new eVent® jacket by Rab, new drinks by Cliff Bar, and jackets by Mont-Bell. Andy talks about the green trend he saw in new gear this year.
If you're interested in reviewing for Backpack Gear Test (BGT), read: How to become a tester. Manufacturers provide more gear than the volunteers at BGT can keep up with. By becoming a tester, you can get free gear, and help your fellow wilderness travelers evaluate what gear will work for them.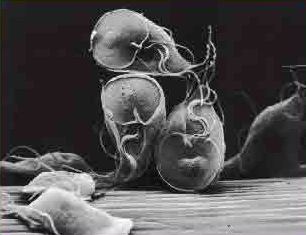 This skills program is an interview about backcountry water quality in general, and about California's Sierra Nevada in particular.
Steve interviewed Dr. Robert Derlet. Dr. Derlet is a professor of emergency medicine at the University of California Davis Medical Center in Sacramento. Dr. Derlet is also a recognized researcher and expert on the quality of backcountry water in the Sierra Nevada. His latest paper on the subject is titled, Coliform bacteria in Sierra Nevada wilderness lakes and streams: what is the impact of backpackers, pack animals, and cattle?.
In this interview, Dr. Derlet talks about how he tests water quality, what kinds of problems lurk in our water, about the various purification treatments for backcountry water, and some tips on choosing a good water source.
We'll hear more from Dr. Derlet in a future program. WildeBeat members can download a longer extended version of the interview from the WildeBeat Insider web site.
Welcome New Radio Listeners
We'd like to welcome our new listeners from these public radio stations:
If you'd like to hear the Wildebeat on your local public, community, or college station, please let them know, and then let us know.
Lassen National Park, part 2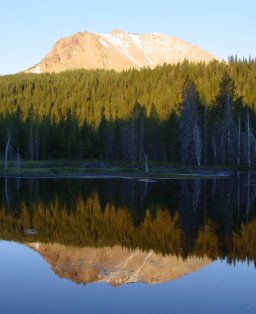 This wild places program is part one of a visit to Lassen Volcanic National Park. It's been called a little Yellowstone because of its wilderness and its volcanic features.
We hear from Steve Zachary, the park's education specialist, about some of the most interesting features of the park's wilderness areas. He mentions the Cinder Cone, the Fantastic Lava Beds, and Boiling Springs Lake.
Jean Higham, our normally silent co-writer and co-editor, provides a trip report on her four day hike in the backcountry. A map and pictures of her trip are available on the photo album link, below. Jean's hike was relatively easy, and she never got more than a few miles from the road. You don't have to get very far into the wilderness to have an extraordinary experience.
If you want to plan a trip to the backcountry of Lassen Volcanic National park, you'll, of course, want to start with this PDF map. Then you'll want to contact the park to arrange for a wilderness permit. You can apply for one in-person, by phone, or online.