Science News article about the Wilderness at Night
The March 18th issue of Science News Magazine included a story titled Night Light. This article includes interviews with Chad Moore of the National Park Service's Night Sky Team, and Dr. Travis Longcore of USC and the Urban Wildlands Group. The article also includes pictures taken by Chad Moore of the distant sky glow from cities, as seen from some of our most remote national parks.
We interviewed Chad Moore and Dr. Travis Longcore last September for two of our earlier editions:
We also posted our complete interview [MP3 format; length 31:14; 3,749,849 bytes] with Dr. Longcore, discussing the contents of his book The Ecological Consequences of Artificial Night Lighting.
Surviving the Desert, Part 1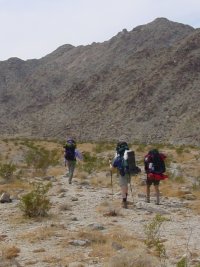 This outings program takes us on a backpacking trip with The Desert Survivors. We camped for two nights in the Sheep Hole Valley Wilderness, in the southern Mojave Desert.
In this part, leader Dave Halligan leads Steve and his group into a camp site and begins a peak climb the next day. In part two, you'll hear the rest of the outing report.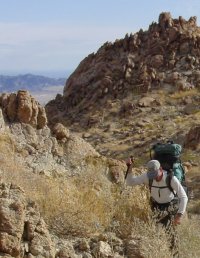 This skills program is an introduction to desert backpacking skills. Steve talks to Steve Tabor of the Berkeley, California based group, The Desert Survivors.
Steve Tabor dispels some of the fears people have about desert wilderness travel. He shares his considerable experience about gear, water management, and plants and animals in the desert. We'll hear more from Steve Tabor in a future program.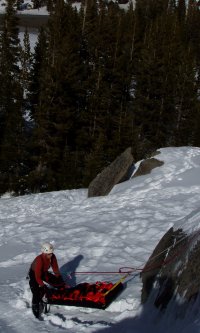 This skills program explores opportunities to volunteer as a wilderness search and rescue responder. Steve interviews John Chang of BAMRU, Tim Kovacs of MRA, and Kathy Miller of NASAR. They talk about how you can make a rescuer's job easier if you should ever need them. They talk about the challenges and rewards of joining a search and rescue team. (Hint: There are few better ways to build your wilderness skills.)
If you're curious about technical mountain rescue, take a look at the Mountain Rescue Association (MRA). Their Team Information page lists all of their affiliated teams.
If you're not in a mountainous area or are curious about less technical search and rescue teams, take a look at the National Association for Search and Rescue (NASAR). Many of their affiliated units are listed on their Links page.
In our edition #16, there's an interview with Sergeant Phil Caporale of the Fresno Country Sheriff's search and rescue unit. He gives some additional advice on being better prepared in case you ever need to be rescued.
Experiences with Dogs in the Wilderness?
For a future story we're working on, we'd like to hear about your experiences with dogs in the wilderness:
Do you take your dog camping with you? How about a trip report?
Have you had a particularly positive or negative experience doing so?
Have you had a significant experience with someone else's dogs on your wilderness trips?
Do you agree or disagree with park and forest policies regarding dogs?
If you have an experience to share, please call our comment line at 866-590-7373.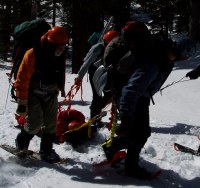 This outings program takes us to a training exercise of the Bay Area Mountain Rescue Unit (BAMRU). The rescuers practice their winter alpine rescue skills in the Carson Pass area, just south of Lake Tahoe, California.
Most search and rescue teams in the U.S. are all-volunteer. BAMRU is just one example. To find out about the mountain rescue teams near you, you can look at the Mountain Rescue Association (MRA).
In next week's show, we'll talk more to John Chang of BAMRU and Tim Kovacs of MRA about how you can get involved and volunteer for mountain and wilderness rescues.