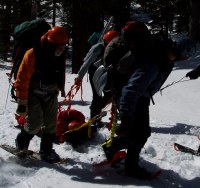 This outings program takes us to a training exercise of the Bay Area Mountain Rescue Unit (BAMRU). The rescuers practice their winter alpine rescue skills in the Carson Pass area, just south of Lake Tahoe, California.
Most search and rescue teams in the U.S. are all-volunteer. BAMRU is just one example. To find out about the mountain rescue teams near you, you can look at the Mountain Rescue Association (MRA).
In next week's show, we'll talk more to John Chang of BAMRU and Tim Kovacs of MRA about how you can get involved and volunteer for mountain and wilderness rescues.