Reprise: A Winter Storm Warning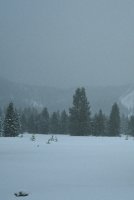 This skills program is a reprise of show numbers 15 and 16, first posted on October 20th, 2005. It's the story of backpacker Mike Bargetto and his three relatives, who started out on a casual autumn backpacking trip in October of 2004. The weather was pleasant when they arrived at their Rae Lake camp site, in California's John Muir Wilderness.
Unfortunately, the weather changed drastically, and their only hope was a rescue. The rescue team was lead by Lieutenant Phil Caporale, of the Fresno County Sheriff's Search and Rescue unit. He and Mike tell the story of the rescue from both perspectives.
See the supplemental information link, below, to learn about how you can be better prepared for unexpected mountain storms, and how to stay safe in such conditions. Follow that link, as well, for a bonus audio clip of our interview with Lieutenant Phil Caporale, with his final analysis of Mike and his companion's predicament.
In our original posting of the article and script for edition #66, Wilderness Deals for Wheels, we misspelled the name of IMBA communications director Mark Eller as Mark Ehler. We corrected this in our published transcript and in the article.
Unfortunately, we were unable to correct the pronunciation in our program from AY-LER to EL-ER. Sorry about that, Mark!
Wilderness Deals for Wheels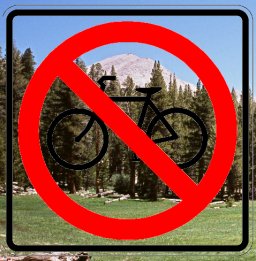 This wild places program investigates the relationship of the popular sport of mountain bicycling to wilderness preservation. What do these groups want when they lobby for the protection of wild places?
Steve tells the story with the help of:
A recent point of contention between wilderness groups and mountain bicycling groups was over the establishment of the King Range Wilderness. This wilderness was established in October, 2006, as part of the Northern California Coastal Wild Heritage Wilderness Act.
The bonus material linked below includes additional interview clips about responsible mountain bike riding in the backcountry. Steve talks to Tom Ward, the California Policy director of the International Mountain Bicycling Association and Ben Lawhon, the education director of the Leave No Trace Center for Outdoor Ethics.
Steve Appears on the One Minute Howto
George Smyth produces a podcast called One Minute Howto. Twice each week, he challenges someone to explain how to do something within one minute.
Steve appears in show number 77, How to Bear Bag.
Steve Interviewed on Podcast Alley
Podcast Alley is a large and popular directory site which lists tens of thousands of podcasts.
About two months ago, Steve was interviewed for a future cover story on Podcast Alley. That interview was just posted last night.
Read it HERE.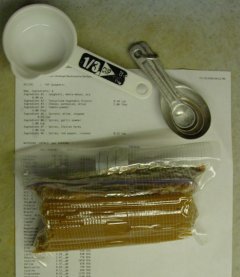 This skills program illustrates how easy it is to prepare your own home-cooked meals in the backcountry. Though the commercially-packaged foods are very convenient, you could save money and get exactly what you like by making your own.
Steve demonstrates how to make one of his favorite pre-packaged dried meals, a vegetarian spaghetti. We also hear from:
See the supplemental information link, below, for the text of that recipe, and links to sources of dried ingredients. If you're looking for more recipes, Backpack Gear Test reviewed backcountry cookbooks in our edition number 9, Backpacking Cookbook Reviews.
NEW: Listen to The WildeBeat by Phone
In case you can't, or would rather not listen to audio on your computer, and you don't have an MP3 player to download The WildeBeat into, there's now another option: You can now listen to the latest edition of The WildeBeat by phone.
Call: (818) 688-2747 (in the U.S.)
This free service (except for the cost of a phone call to the Los Angeles area) is provided by podlinez.net.
Fast Food for the Backcountry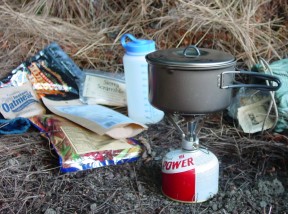 This skills program is a look at the dehydrated food options for backcountry travelers. What goes into making these things? Are they real food? Are they good food and good for you?
Steve talks to three manufacturers of dehydrated meals:
Mary Howley Ryan, the nutritional advisor for NOLS wraps up the story with her take on the value of fast food for backcountry travelers.
Other dehydrated food manufacturers include (in alphabetical order):
Many of these companies use the freeze drying process to preserve their foods. It's a rather complicated, energy-intensive process requiring expensive equipment. Other manufacturers use a more simple heat and dehumidified-air dehydrating process.
Russel Nelson from Utah called to compare the human waste pack-out rules and systems between Mount Whitney, as we discussed in editions 62 and 63, and the narrows in Zion National Park.
Frequent commenter John Trefethen called to tell a story about his experiences on Mount Whitney.
We want to thank several bloggers who regularly recognize our work.
Two Heel Drive, A hiking blog
Tom Mangan says he, scans the reams of hiking discussion boards, review sites, blogs and other places online, and posts links to the stuff he thinks other people might find interesting.
National Parks Traveler
Kurt Repanshek tracks news and political issues about the National Parks. He occasionally talks about his own outings and gear choices as well.
The Adventure Blog
Kraig collects comments and news about some of the more extreme and adventurous activities going on in the outdoors.
The Poop on Mount Whitney, part 2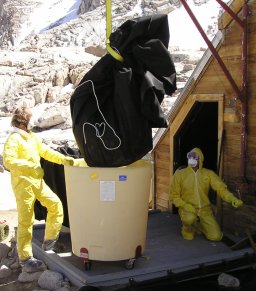 This wild places program investigates an effect that 20,000 hikers and climbers a year have on the trail to Mount Whitney (14,498'). In order to preserve the environment and scenic beauty of that narrow, rocky canyon, the Inyo National Forest has had to take Leave No Trace a step further.
Steve tells the story with the help of:
Both the Inyo National Forest and Sequoia National Park issue Wag-Bags for hikers to use to pack out their waste. Other areas, including Mount Shasta and Mount Rainier have similar requirements but use other systems.
The bonus material linked below includes an additional interview clip from Brian Spitek and Mike Miele, and photos of a waste removal operation.
Photo credits: Brian Spitek, Inyo National Forest