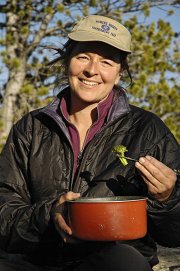 This skills program is part one of an interview with Mary Howley Ryan, the nutritional advisor for NOLS, the National Outdoor Leadership School. She's also the author of the NOLS Nutrition Field Guide.
Our body's the engine that powers our wilderness trips. How do we make sure the food we have is enough to support the strength and stamina we need for our travels?
Mary talks about why nutrition is important for wilderness trip meals, and about the most important considerations. She talks about the differences in requirements between shorter and longer trips. Why do people get food cravings on the trail?
In next week's edition, Mary will talk more about planning food for your trips.