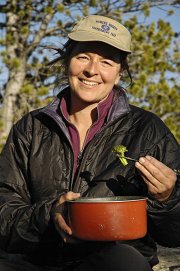 This skills program is part one of an interview with Mary Howley Ryan, the nutritional advisor for NOLS, the National Outdoor Leadership School. She's also the author of the NOLS Nutrition Field Guide.
Our body's the engine that powers our wilderness trips. How do we make sure the food we have is enough to support the strength and stamina we need for our travels?
Mary talks about why nutrition is important for wilderness trip meals, and about the most important considerations. She talks about the differences in requirements between shorter and longer trips. Why do people get food cravings on the trail?
In next week's edition, Mary will talk more about planning food for your trips.
Lowell Moulton of San Mateo, California called looking for volunteers to assist with a project to inventory Sequoia trees, giant and smaller, in the Sequoia National Forest south of Sequoia National Park. This project is being organized by The Sequoia Forest Keepers. The inventory project outing is August 19 - 21, 2006.
To find out more about this project, call Lowell Moulton at (650) 571-9418, or send e-mail to him lowell.moulton(AT)sbcglobal.net.
Where's the July 27th show?
Our edition number 51 for July 27th will be late. We normally post our show at 9:00 AM (Pacific time) on Thursday mornings, but we're not going to make that deadline. We expect to have the show up by mid-day on Friday, July 28th.
This has been a rough week in San Jose, California. We've had ten straight days of record heat, and six consecutive days over 100°F. That alone we could have managed, but then three and a half days without electricity has put us more than a day behind on our production schedule, as well as plenty of other work. Our power was restored last night, but now there's a lot of catching-up to do.
We apologize for missing our normal release time, and we thank all of our loyal listeners for their understanding.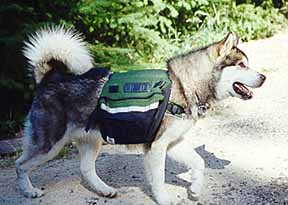 This skills program is about taking man's best friend camping in the wilderness. Where can you do it, and what do you need to know before you do?
Steve gets advice from Charlene LaBelle, the author of the Alpine Publications book, A Guide to Backpacking with Your Dog. Charlene was joined in the interview by Iris, a very quiet and well-behaved Alaskan Malamute. She talks about how to know if your dog is suited to backpacking, how to train them, and what you'll need to take.
Ben Lawhon of the Leave No Trace Center for Outdoor Ethics shares his concerns about problems with dogs in the backcountry, and Laurel Boyers of Yosemite National Park explains why dogs aren't allowed in National Park wilderness areas. Probably the best places to take your dog backpacking are in National Forests.
Another book on the subject is Gary Hoffman's, Hiking with Your Dog. There are several popular web sites on the subject, including Diane Blackman's Hiking and Backpacking with your Dog Links, and the Dog Scouts of America page on Backpacking with Your Dog.
Paul Cronshaw, of Santa Barbara, CA, called-in to share a report on his backpacking trip. Steve met Paul on the PCT in the South Sierra Wilderness. Paul also gave a link for some pictures from his trip.
Announcing: Fixing Your Feet, 4th edition
John Vonhoff, who we interviewed for Getting Fit Feet (our editions #40 and #41), wrote to announce the newest edition of his book:
…The 4th edition of Fixing Your Feet is available. The publisher got them this week. I put up a new website, www.fixingyourfeet.com and will be adding more articles in the months ahead.
Steve talks about his recent travels, including a WFR course and an 86 mile hike on a section on the Pacific Crest Trail (PCT) ending 10.5 miles after climbing to the summit of Mount Whitney (14,497'). He reminds you that we'd like it if you'd call our comment line (866-590-7373) to tell your stories of recent adventures.
Reprise: Wilderness Ranger Experiences

This skills program is a reprise of show number 11, first posted on September 22, 2005. It's about the job of being a backcountry ranger in national forest wilderness. It's a frequently romanticized job with lots of responsibility. Three rangers talk candidly about their experiences.
Sendi Kalcic and Brent Carpenter are professional backcountry wilderness rangers who have worked in the Desolation Wilderness of the Eldorado National Forest near Lake Tahoe, California. Amy McElvany is a volunteer wilderness ranger in the Sierra National Forest, working out of the High Sierra Ranger District.
National Parks, National Forests, and many state and local parks offer opportunities for you to volunteer for duty as a backcountry ranger. Amy McElvaney volunteered through a pilot program in cooperation with the High Sierra Volunteer Trail Crew. The site volunteer.gov is another good place to search for opportunities. But probably the best place to find out more is to contact your favorite park or forest, and ask about their respective cooperative volunteer association.