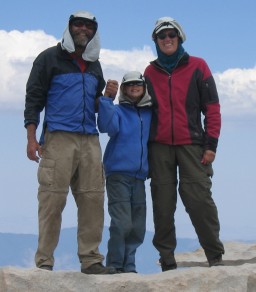 This outings program tells the story of a 10 year old girl and her parents who went on a hike. With all the emphasis on getting more kids outdoors, it might be helpful to give them a role model. Listen to hear about a great one.
Mary "Scrambler" and her parents, Gary and Barbara, hiked the length of the Pacific Crest Trail in 2004. Their 2,650 mile journey started April 8th, and they were on the trail until October 25th. They talk about preparation for their journey, stories along the trail, and some of the more profound things they got out of the experience.
Barbara Egbert wrote about the adventure, and included photos, copies of Mary's journal, drawings, and more in her book, Zero Days. Gary maintains a web site at pctfamily.com.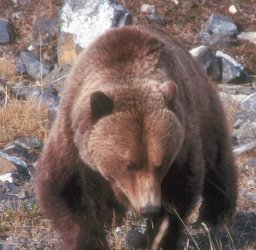 This skills program takes a look at the latest in safety advice in grizzly bear country. What if the safest way to protect yourself from a grizzly bear was also safer for the bear?
Steve talks to Chris Servheen, the Grizzly Bear Recovery Coordinator for the U.S. Fish and Wildlife Service. Chris authored several fact sheets on bears, including the most recent, Bear Spray vs. Bullets—which offers better protection?
Chris refers Steve to a scientist who's doing the leading-edge studies on how to most safely handle yourself in grizzly bear habitat. Tom Smith, an Associate Professor of Plant and Wildlife Sciences at Brigham Young University, has studied the entire documented history of bear encounters in North America for the past 120 years. Tom explains why certain deterrents work better than others.
WildeBeat Members can download our entire 40-minute interview with bear researcher Tom Smith from our WildeBeat Insider web pages.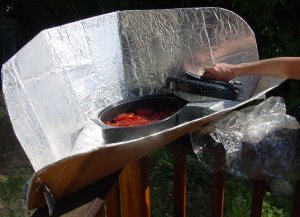 This skills program is a wrap. Well, really it's about baking fresh enchiladas, in a backcountry camp, without a fire or a stove.
Steve returns to visit the kitchen of backcountry cooking author Linda Frederick Yaffe. Ms. Yaffe is the author of the books Backpack Gourmet, Solar Cooking for Home and Camp, High Trail Cookery, and The Well Organized Camper.
Our guest backpack gourmet demonstrates a solar oven that portable enough to be carried in a backpack, and simple enough to build for yourself. She uses her solar cooker to prepare delicious fresh bean and cheese enchiladas with fresh tomatoes. She also mentions other things you can make with a clamshell solar cooker.
Follow the supplemental information link below to get the complete recipe and pictures of her and the enchiladas. Ms. Yaffe mentions the non-profit organization, Solar Cookers International, which she recommends as a source for appropriate cook pots and pans.
WildeBeat Members can download our entire collection of unedited sit-down interviews with Linda Frederick Yaffe, from each of the three shows she appears in, from our WildeBeat Insider web pages.
Meals for a 3-Day Adventure
We're delighted to welcome Alpine Aire Foods as new sponsors. They are supporting the WildeBeat by providing a Three Day Gourmet Instant Meal Kit as a thank you gift to new WildeBeat members. This kit retails for $55.70.
If you join as a full member ($48/yr.), or above, we'll thank you by sending you a coupon for one of these kits. The kits include: All American Roast Beef Hash, Beef Rotini, Mountain Chili, Pasta Roma, Peanut Butter and Cracker Lunch, Spaghetti Marinara with Mushrooms, Alpine Minestrone Soup, Strawberry Honey Granola with Milk, Apple Almond Crisp, and Chicken & Almond Salad w/Crackers.
Not only that, but you'll get all the other regular benefits of being a WildeBeat member: Access to discussions and premium content on our WildeBeat Insiders Web pages, a subscription to the the award-winning Earth Island Journal, and most importantly, the feeling of having helped others explore and appreciate our wild public lands.
Now you have one less excuse for not getting into the wilderness. We've got your meals taken care of!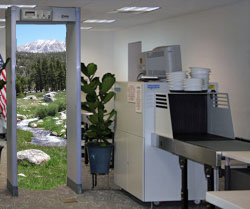 This skills program looks at packing your gear for air travel to a distant trailhead. Air travel can be a hassle if you don't plan ahead and prepare.
We hear a phoned-in comment from listener Jeremy Sullivan. He relates a situation when he had difficulty traveling with his camping gear. Steve meets with Robert Cassidy, a hazardous materials specialist for the Federal Aviation Administration. Robert provides a lot of helpful information, but he explains that in the end the Transportation Security Administration has the final say at the security checkpoint about what you can take on an airliner. Steve talks to Nico Melendez by phone. Nico is the Pacific Region spokesman for the Transportation Security Administration.
You can find additional information to help you identify hazardous materials to avoid taking on an airplane on the FAA's Hazardous Materials Information for Passengers page. More general information on planning ahead and preparing for air travel with your backcountry gear can be found on the TSA's Air Travel Tips pages. In particular, they have a page devoted to traveling with camping gear.
WildeBeat members can download an extended interview with Robert Cassidy of the FAA, from our WildeBeat Insiders web pages.
This edition was made possible by:

Producing a range of natural, gourmet freeze-dried foods for over twenty-five years, Alpine Aire features ready-to-eat instant meals for your outdoor adventures, available at www.aa-foods.com.