This outings program takes us to the Bear Valley Telemark Festival (you might need to turn off Javascript to see this page). One of the key skills for backcountry ski touring is the telemark turn. It's a way to descend larger, steeper hills on skis that are more like cross-country skis. Festival events like the Bear Valley Tele Fest help you get a jump-start on the skills.
Steve gives a history of telemark skiing. He talks to a couple of people about their experience at the festival, visits some of the events at the show, and attends a lesson.
There's a history of telemark skiing on the site, TelemarkTips.com. They also have an online "lesson" and many other articles about getting started. There's a magazine devoted to Telemark skiing. Telemark skiing gear and technique is also frequently covered in the backcountry skiing magazine Couloir.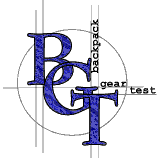 This gear program is a report on the Winter 2006 Outdoor Retailer's Expo. Jerry Goller, Rebecca Sowards-Emmerd, and Steven Nelson of Backpack Gear Test report on the show in general, and the gear they saw there in particular.
They commented on gear made by Heat Factory, Jetboil, Arc'teryx, Osprey, Mountain Hardware, Pacific Outdoor Equipment, Kahtoola, Java Juice, Ursack, Icebreaker Merino, and Injinji.
Backpack Gear Test has more gear to review than reviewers. You can start out by reviewing gear you already own, and then you might be able to get other free gear to review. Read: How to become a tester.
Wilderness First Aid Training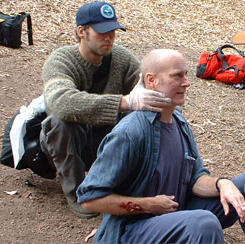 This skills program is a mini wilderness first aid class. Bobbie Foster of Foster Calm is a wilderness EMT and professional first aid trainer. She talks us through the most common health problems people encounter on backcountry trips, and what to do about them. She explains the different levels of wilderness first-aid training of interest to non-medical professionals.
Standards for wilderness first aid courses is established by the Wilderness Medical Society. To find wilderness first aid training near you, look for wilderness first aid or wilderness first responder using your favorite search engine. Although there are a lot of good books on wilderness first aid, the most up-to-date volume we know about for non-professional users is Wilderness 911 by Eric Weiss, M.D.
Staying On Top of the Snow
This skills program is an introduction to avalanche safety. Gary Bard, an avalanche safety instructor for Mountain Adventure Seminars, talks about easy ways to stay out of avalanches, and describes a rescue. Brandon Schwartz of the Sierra Avalanche Center talks about avalanche forecasting and the Snow Condition Report. Tom Murphy, of the American Institute for Avalanche Research and Education (AIARE), talks about avalanche safety education.
There's a lot of additonal information about avalanche-related organizations, and avalanche safety, under the To find out more... link, below.