Problems traveling with your gear?
Have you ever travelled to a wilderness trailhead using a major commercial airline? If so, what difficulties did you have taking your gear? Did you have to leave anything behind at a security checkpoint? When you claimed your checked bag, did you find that your gear was searched-through and it's contents disturbed?
We'd like to hear your comments for possible use in next week's show. Please call-in your stories to our toll-free (in the U.S.) comment line: 1-866-590-7373
California Snowshoe Trails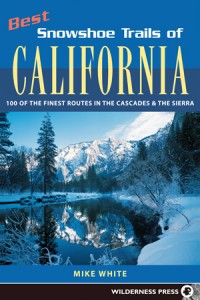 This wild places program presents a guidebook author's favorite places to snowshoe in California. Yeah, it's spring, but there's still a lot of nice snow up there.
Mike White, author of Best Snowshoe Trails of California, tells us what he actually thinks are the very best snowshoe trails in California. He picks trails that start at this trailhead, and at this trailhead.
Mike introduced us to snowshoe hiking two weeks ago, in our edition number 129, A Snowshoe Primer. Mike also mentions the option of staying overnight in a backcountry hut; one of the places we mentioned in our edition number 111, a reprise of Indoor Snow Camping.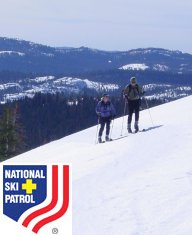 This outings program takes us on a patrol day with the Lake Alpine Nordic Ski Patrol. You can have a great time while helping others by joining a ski patrol.
Steve joins the patrol skiing in the backcountry near Bear Valley, California. We hear from Charles Schafer, the patrol director for the Lake Alpine Nordic Ski Patrol. His group is affiliated with the Far West Division of the National Ski Patrol. Charles talks about the reason they're out there skiing the backcountry: To provide assistance to backcountry skiers and to make their experience safer.
After the tour, Steve talked with Jeff Gurrola, the Nordic Supervisor for the Far West Division of the National Ski Patrol. Jeff talks about how you can join up with a backcountry ski patrol.
To join a ski patrol in your favorite backcountry area, you can start by contacting the National Ski Patrol and finding out about which areas near you have active patrols. Call their national office in Colorado at 303-988-1111.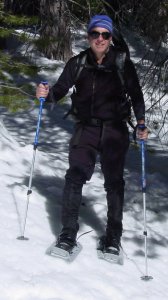 This skills program presents an introduction to winter hiking on snowshoes. If you can hike, you can snowshoe.
Steve takes a hike with author Mike White, who wrote the books, Best Snowshoe Trails of California, Snowshoe Trails of Yosemite, and Snowshoe Trails Tahoe. A couple of weeks ago, they hiked out and back a couple of miles in the Tahoe National Forest near Donner Pass in California.
Snowshoe hiking is the easiest way to start exploring the wilderness in the winter. Mike explains the gear you need, and how to get started.
WildeBeat members can download an extended interview with Mike White featuring more detailed tips for getting started, from our WildeBeat Insiders web pages.
Discussion of Scared Indoors
In response to our two-part program, Scared Indoors, we saw quite a bit of lively discussion in various forums online...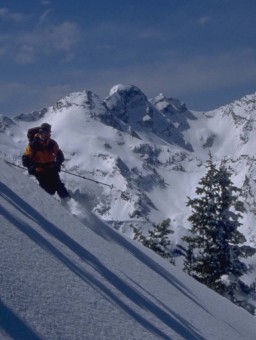 This wild places program provides a ski guide's advice on how to get away from the crowds at the very popular ski resorts in Utah.
Guest correspondent Kurt Repanshek visited the Mill Creek trailhead in the Wasatch-Cache National Forest near Salt Lake City. There he met backcountry ski guide and guide book author Tyson Bradley. Tyson wrote the book, Backcountry Skiing Utah.
Tyson talks about the many mountain ranges in Utah that provide a wide range of exceptional opportunities for backcountry and wilderness skiing, whether you're an advanced-beginner cross country skier, or you're an expert alpine or telemark skier. He points out that if you are comfortable on your skis, and you're fit enough to hike three miles and gain a thousand feet, then you're plenty fit to get into the backcountry on terrain appropriate for your skills.
Tyson also mentions that sometimes in the deep, dry snow of Utah, you might have a greater chance to be at risk from avalanches. Our edition number 74, Staying on Top of the Snow, provides an introduction to avalanche safety. One of the most important things to do before you go out is to check with the Utah Avalanche Center for the day's forecast.
Kurt Repanshek regularly writes and occasionally podcasts on his National Parks Traveler web-zine.
In our edition number 125, titled "Forest Admission?" we read from the online writings of Tom Martin, co-director of the Arizona-based non-profit, River Runners for Wilderness. Tom wasn't available for an interview before our production deadline for that edition. Yesterday, Tom called in this comment about our story. After Tom's comments, and Steve's response, we include a a comment by Dave Simon, director of outdoor activities for the Sierra Club, about the range of reaction to the proposed Forest Service rule.