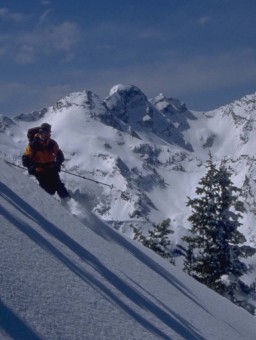 This wild places program provides a ski guide's advice on how to get away from the crowds at the very popular ski resorts in Utah.
Guest correspondent Kurt Repanshek visited the Mill Creek trailhead in the Wasatch-Cache National Forest near Salt Lake City. There he met backcountry ski guide and guide book author Tyson Bradley. Tyson wrote the book, Backcountry Skiing Utah.
Tyson talks about the many mountain ranges in Utah that provide a wide range of exceptional opportunities for backcountry and wilderness skiing, whether you're an advanced-beginner cross country skier, or you're an expert alpine or telemark skier. He points out that if you are comfortable on your skis, and you're fit enough to hike three miles and gain a thousand feet, then you're plenty fit to get into the backcountry on terrain appropriate for your skills.
Tyson also mentions that sometimes in the deep, dry snow of Utah, you might have a greater chance to be at risk from avalanches. Our edition number 74, Staying on Top of the Snow, provides an introduction to avalanche safety. One of the most important things to do before you go out is to check with the Utah Avalanche Center for the day's forecast.
Kurt Repanshek regularly writes and occasionally podcasts on his National Parks Traveler web-zine.