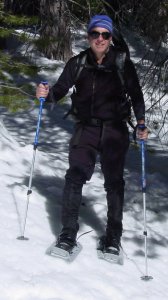 This skills program presents an introduction to winter hiking on snowshoes. If you can hike, you can snowshoe.
Steve takes a hike with author Mike White, who wrote the books, Best Snowshoe Trails of California, Snowshoe Trails of Yosemite, and Snowshoe Trails Tahoe. A couple of weeks ago, they hiked out and back a couple of miles in the Tahoe National Forest near Donner Pass in California.
Snowshoe hiking is the easiest way to start exploring the wilderness in the winter. Mike explains the gear you need, and how to get started.
WildeBeat members can download an extended interview with Mike White featuring more detailed tips for getting started, from our WildeBeat Insiders web pages.