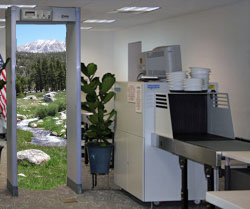 This skills program looks at packing your gear for air travel to a distant trailhead. Air travel can be a hassle if you don't plan ahead and prepare.
We hear a phoned-in comment from listener Jeremy Sullivan. He relates a situation when he had difficulty traveling with his camping gear. Steve meets with Robert Cassidy, a hazardous materials specialist for the Federal Aviation Administration. Robert provides a lot of helpful information, but he explains that in the end the Transportation Security Administration has the final say at the security checkpoint about what you can take on an airliner. Steve talks to Nico Melendez by phone. Nico is the Pacific Region spokesman for the Transportation Security Administration.
You can find additional information to help you identify hazardous materials to avoid taking on an airplane on the FAA's Hazardous Materials Information for Passengers page. More general information on planning ahead and preparing for air travel with your backcountry gear can be found on the TSA's Air Travel Tips pages. In particular, they have a page devoted to traveling with camping gear.
WildeBeat members can download an extended interview with Robert Cassidy of the FAA, from our WildeBeat Insiders web pages.
This edition was made possible by:

Producing a range of natural, gourmet freeze-dried foods for over twenty-five years, Alpine Aire features ready-to-eat instant meals for your outdoor adventures, available at www.aa-foods.com.