The Poop on Mount Whitney, part 2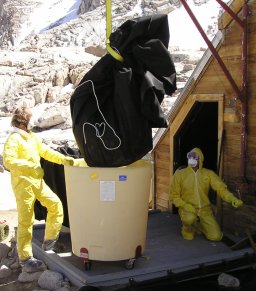 This wild places program investigates an effect that 20,000 hikers and climbers a year have on the trail to Mount Whitney (14,498'). In order to preserve the environment and scenic beauty of that narrow, rocky canyon, the Inyo National Forest has had to take Leave No Trace a step further.
Steve tells the story with the help of:
Erika Jostad, Wilderness Manager from Sequoia National Park.
Brian Spitek, Wilderness Manager for the Mount Whittney Ranger District of the Inyo National Forest.
Mike Miele, a wilderness ranger on the Mount Whitney Trail.
David Ramierez, a 20-time hiker of the Mount Whitney Trail, from Palmdale, California.
Sam Ungar, a hiker from Agora Hills, California.
Both the Inyo National Forest and Sequoia National Park issue Wag-Bags for hikers to use to pack out their waste. Other areas, including Mount Shasta and Mount Rainier have similar requirements but use other systems.
The bonus material linked below includes an additional interview clip from Brian Spitek and Mike Miele, and photos of a waste removal operation.
Photo credits: Brian Spitek, Inyo National Forest