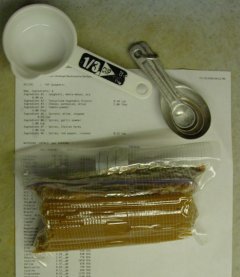 This skills program illustrates how easy it is to prepare your own home-cooked meals in the backcountry. Though the commercially-packaged foods are very convenient, you could save money and get exactly what you like by making your own.
Steve demonstrates how to make one of his favorite pre-packaged dried meals, a vegetarian spaghetti. We also hear from:
See the supplemental information link, below, for the text of that recipe, and links to sources of dried ingredients. If you're looking for more recipes, Backpack Gear Test reviewed backcountry cookbooks in our edition number 9, Backpacking Cookbook Reviews.