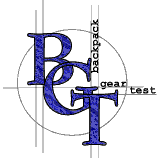 This gear program is an overview of some of the new gear exhibited at the 2007 Outdoor Retailer Summer Market. Steve intervews testers from BackpackGearTest.ORG in Salt Lake City, Utah.
Andy Mytys comments on the SPOT Satellite Messenger, new tarps by Go Lite, and new products by Sea to Summit. Jennifer Koles comments on the Magellan Triton GPS receiver and National Geographic Topo! maps. Jason Boyle comments on a new eVent® jacket by Rab, new drinks by Cliff Bar, and jackets by Mont-Bell. Andy talks about the green trend he saw in new gear this year.
If you're interested in reviewing for Backpack Gear Test (BGT), read: How to become a tester. Manufacturers provide more gear than the volunteers at BGT can keep up with. By becoming a tester, you can get free gear, and help your fellow wilderness travelers evaluate what gear will work for them.