Lassen National Park, part 2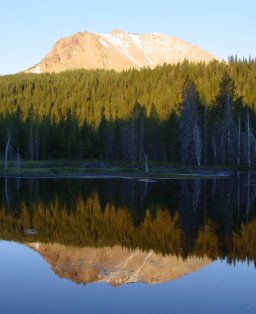 This wild places program is part one of a visit to Lassen Volcanic National Park. It's been called a little Yellowstone because of its wilderness and its volcanic features.
We hear from Steve Zachary, the park's education specialist, about some of the most interesting features of the park's wilderness areas. He mentions the Cinder Cone, the Fantastic Lava Beds, and Boiling Springs Lake.
Jean Higham, our normally silent co-writer and co-editor, provides a trip report on her four day hike in the backcountry. A map and pictures of her trip are available on the photo album link, below. Jean's hike was relatively easy, and she never got more than a few miles from the road. You don't have to get very far into the wilderness to have an extraordinary experience.
If you want to plan a trip to the backcountry of Lassen Volcanic National park, you'll, of course, want to start with this PDF map. Then you'll want to contact the park to arrange for a wilderness permit. You can apply for one in-person, by phone, or online.