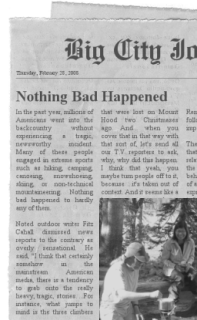 This wild places program is part 2 of an exploration of how mass media might be affecting people's interest in getting into the wilderness. (Part 1 is here.)
They came, they saw, they almost bought it; are these the kind of stories that inspire you to get into the wilderness? Do they represent the normal experience of a wilderness visitor?
Steve answers this question with the help of:
Our thanks to Fitz Cahall for supplying the recording of his interview, and for permission to use an excerpt from his show, No Big Deal.
WildeBeat members can download extended bonus interviews with Andrew Skurka and Ryan Jordan from our WildeBeat Insider's web pages.