Reprise: Sierra Backcountry Ski Trails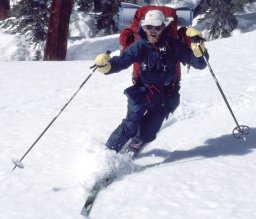 This skills program is an interview with Marcus Libkind. This is a reprise of our program number 21 of December 1, 2005.
Marcus wrote the most comprehensive and widely used trail guides for backcountry ski tours in the Sierra Nevada:
Marcus has moved these guides online to his Ski Tours in the Sierra Nevada web site. He will add tours to this site one by one as soon as they are field checked for updates. The whole site is about your participation—he invites you to explore his routes and then submit updated information about the ski tours from his books. Also, you can suggest new tour routes for this online guide.
If you want to get started exploring the backcountry on skis, Marcus recommends getting lessons and practice at groomed-track cross-country ski resorts first. The Cross Country Ski Areas Association has a directory of cross country ski trail systems. One good beginner's guide to winter backcountry skills is Allen & Mike's Really Cool Backcountry Ski Book.