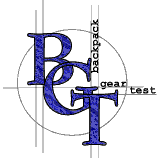 This gear program is a report on the Winter 2008 Outdoor Retailer's Expo. What's cool in next year's winter gear?
Jason Boyle and Christopher Nicolai report on the most interesting gear they hope to test for BackpackGearTest.ORG. They comment on products by: GoLite, Rab, Patagonia, Mountainsmith, MontBell, Cilogear, Aspen Aerogel, Easton, Garmont, and Teko Socks.
As a wrap-up, Backpack Gear Test founder Jerry Goller tells us that they get more gear to review than their reviewers can keep up with. You might be able to get free gear to review. Read: How to become a tester.