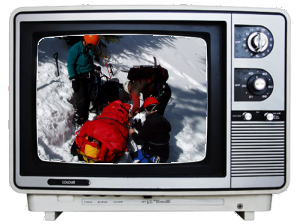 This wild places program asks how mass media might be affecting people's interest in getting into the wilderness. They came, they saw, they almost bought it; are these the kind of stories that inspire you to get into the wilderness?
Steve explores this question with the help of:
We'd like to include some of your comments in next week's part 2. Can you give us examples of mainstream media you've read, listened to, or watched that scared you away from trying what you saw? Better yet, how about examples of mainstream media describing wilderness adventures that seemed completely within your reach and looked like a good time? Let us know by calling our toll-free comment line at 866-590-7373.
Next week, in part 2, we'll try to answer the question that this week's program asks.
Our thanks to Fitz Cahall for supplying the recording of his interview, and for permission to use an excerpt from his show, No Big Deal.