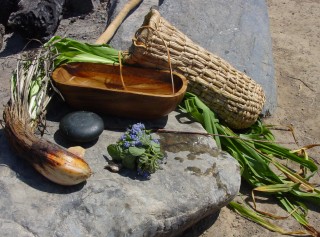 This skills program presents primitive skills for personal grooming. This is the fourth in a series featuring primitive technologies experts from Primitive Ways. Other shows in this series are edition 141, First Skills, the edition 146, Starting with Fire, and edition 150, Ancient Firemaking.
Using primitive tools and natural materials, naturalist Sue Labiste demonstrates how to soap up, perform dental hygiene, and give yourself a manicure.
The Primitive Ways website has many articles on primitive health care and grooming. Another source of information on primitive skills is the Society of Primitive Technologies.