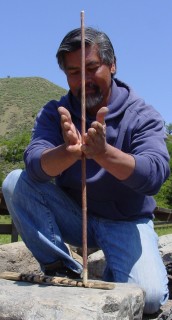 This skills program presents advanced skills for making fire without modern tools. This is the third in a series of shows featuring primitive technologies experts from Primitive Ways. (The first show is number 141, First Skills, and the second is show number 146, Starting with Fire.)
Naturalist Dino Labiste talks about the three methods prehistoric humans used to make fire. He demonstrates creating fire by friction using a hand drill. He talks about two other methods, fire by percussion, and fire by compression. He explains what would be the best of these techniques for you to use if you had no modern choices.
The Primitive Ways website has many articles on primitive fire skills. Another source of information on primitive skills is the Society of Primitive Technologies.
WildeBeat Members can download a recording of Dino Labiste's complete firemaking demonstration from our WildeBeat Insider web pages.