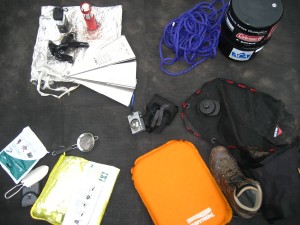 This skills program explains the gear you can carry to tread lightly on your favorite wild places. This is the second in a series of presentations by the Leave No Trace traveling trainers.
J.D. Tanner and Emily Ressler talk about the gear you can bring along to make it easier to Leave No Trace. They talk about shoes and shelter, bags and trowels, cameras and sketch pads, lights and blankets, cans and binoculars, and radios and headphones. All of this gear, and more, can help you leave the wild places you visit as good or better than you found them.
Specifically, Emily mentions Restop, WAG bags, and poop tubes. J.D. mentions bear cans, which we discussed in detail in our previous edition, Bear Cans Revisited.
We'll hear more from Emily Ressler and J.D. Tanner in a future edition. The series will continue several weeks from now when J.D and Emily explain more details about a specific Leave No Trace principle.