Bear Cans Revisited, part 2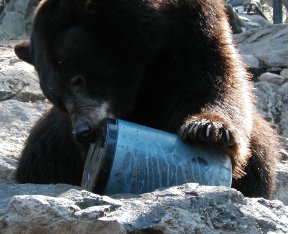 This wild places program is part two of an exploration of the situation in the Sierra Nevada wilderness areas that lead to the development of the bear-resistant food canister. (Part one is here.) Who makes these things, and how do we know they work?
Steve tells the story with the help of:
Harold Werner and Calder Reid are members of the Sierra Interagency Black Bear Group (SIBBG), the standards-setting body for bear management in the major Sierra Nevada wilderness areas. Their group also performs the tests that lead to the approval of canisters for use in Yosemite National Park, Sequoia & Kings Canyon National Park, and the Inyo National Forest. Several other jurisdictions also require canisters from the SIBBG approved list.
This edition was originally presented on August 31, 2006.
Photo credit: Calder Reid, Inyo National Forest