Reprise: Really Cool Camping, part 2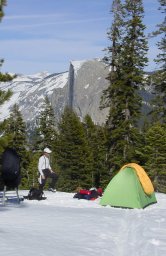 This skills program is an introduction to snow camping. Snow camping is really cool, but it doesn't have to be cold if you know what you're doing. This is a reprise of our program number 27 of January 26, 2006.
Mike Clelland is a winter camping instructor for the National Outdoor Leadership School. He's also the illustrator and co-author of Allen & Mike's Really Cool Backcountry Ski Book.
In this part, Mike talks about kitchens, cooking and nutrition, and staying warm at night. Ben Lawhon from the Leave No Trace Center gives some additional tips for low-impact snow camping.
WildeBeat members can download the entire, unedited interview with Mike Clelland from our WildeBeat Insiders web site.