Really Cool Camping, part 2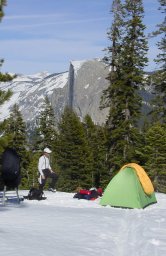 This skills program is an introduction to snow camping by Mike Clelland. Mike is a winter camping instructor for the National Outdoor Leadership School. He's also the illustrator and co-author of Allen & Mike's Really Cool Backcountry Ski Book.
In this part, Mike talks about kitchens, cooking and nutrition, and staying warm at night. Ben Lawhon from the Leave No Trace Center gives some additional tips for low-impact snow camping.