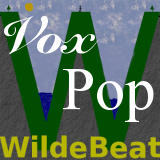 This outings program is a Vox Pop where we ask: Are snow campers and winter wilderness visitors super-human?
Steve recorded the candid thoughts of several skiers, snowshoe hikers, and snow campers at Summit Meadow along the Glacier Point Road in Yosemite National Park. Summit Meadow is about a mile from the Badger Pass downhill ski area, a popular trailhead for winter access to the Yosemite backcountry.
First, we hear from Howard Weamer, the Hut Master for Yosemite Park's backcountry ski hut at Ostrander Lake (who we heard from in edition 72), about the history of cross country skiing in Yosemite. Then we hear the intermingled comments of Kevin Schwartz, Tazuo Han, Ken Branson, Karina Schwag, Rich Rasmussen, Chris Gorton, and Chris Clay.
At the end, Steve invites listeners to contribute their comments to Vox WildeBeat, our companion podcast of community conversation.