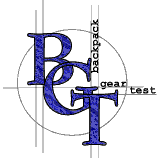 This gear program presents reviews of two rain jackets and a poncho. An important part of keeping warm is keeping dry, and the first part you want to protect is your torso.
Steve Nelson reviews the Antigravitygear Poncho Villa. Gail Staisil reviews the Outdoor Research Celestial Jacket. Jim Sabiston reviews the Integral Designs eVENT Cruiser Jacket.
If you're interested in reviewing for Backpack Gear Test (BGT), read: How to become a tester. Manufacturers provide more gear than the volunteers at BGT can keep up with. By becoming a tester, you can help your fellow wilderness travelers find out what gear will work for them.