Listener Oliver Hager, who lives in Germany, frequently visits American wilderness areas. He commented on our edition number 113, Desert Roadless Traveled. Kurt Repanshek, who contributed that story for us, responds.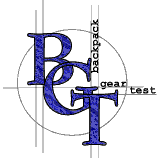 This gear program presents reviews of three-season sleeping bags. Three-season bags are those that you would typically use in spring, summer, or fall.
Edward Ripley-Duggan reviews the Valandre Mirage. Kevin Hollingsworth reviews the Montbell UL Alpine Burrow Bag. Andrew Buskov reviews the Big Agnes Lost Ranger.
If you're interested in reviewing for Backpack Gear Test (BGT), read: How to become a tester. Manufacturers provide more gear than the volunteers at BGT can keep up with. By becoming a tester, you can help your fellow wilderness travelers find out what gear will work for them.