Bad Fire, Good Fire, part 1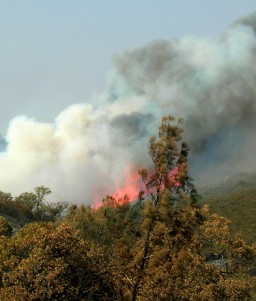 This wild places program is part one of a look at the effects of wild fires. Smoky the Bear says, only you can prevent wild fires. But sometimes you can't, and in some ways, that's not all bad.
We play a part of a TV news report about a wild fire that burned about half of California's Henry Coe State Park. This park contains the nearest wilderness area to us, the Orestimba Wilderness.
Kathleen Good tells us about the largest of last year's wild fires in California, the Zaca Fire in the Los Padres National Forest, which burned both the Dick Smith Wilderness and the San Rafael Wilderness.
Steve tours the damage at Henry Coe State Park with ranger John Verhoeven.
Ben Lawhon, education director for the Leave No Trace Center for Outdoor Ethics, reminds us about responsible use of fire on backcountry and wilderness outings.
Next week, in part 2, scientists study what happens to a wild place after a fire.