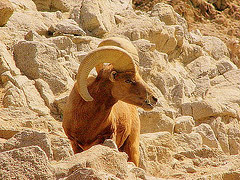 This wild places program looks at a proposal to provide artificial water sources for California desert bighorn sheep. Are we going to have to ruin a wilderness to save them?
We hear from Steve Tabor, who taught us desert backpacking skills in edition 34, and helped introduce us to the Sheephole valley Wilderness in edition 81. Steve mentions a plan to build roads and dams in the Sheephole Valley Wilderness to provide water for desert bighorn sheep.
Dan Abbe, a wilderness specialist from the Needles office of the Bureau of Land Management, explains these artificial watering holes for the sheep, which are called big game guzzlers.
Brent Schoradt, the deputy policy director for the California Wilderness Coalition, explains why he thinks this plan is a bad idea.
What do you think? Will it ruin this wilderness to save the sheep? We'd love to hear your comments.