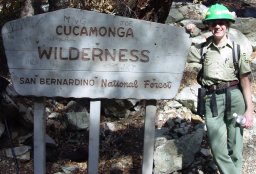 This wild places program explores Southern California's most undiscovered National Forest wilderness, the Cucamonga Wilderness. The Cucamonga straddles the border between the San Bernardino National Forest, and the Angeles National Forest. It's the least-visited wilderness in the greater Southern California region.
Steve got into the wilderness with wilderness ranger Sharon Barfknecht, and district ranger Gabe Garcia. They met at the Lytle Creek Ranger Station, and then day-hiked from the Middle Fork trailhead. They hiked a few miles up the canyon of the middle fork of Lytle Creek.
There's another trailhead on the west side in the Angeles National Forest. This trailhead is in Ice House Canyon. It's a much more popular way to access the Cucamonga Wilderness.
The California Wilderness Coalition has proposed some additions to the Cucamonga. They publish a map of their proposed additions. Gabe Garcia provides some news on that effort.