Ishi's Wilderness, part 2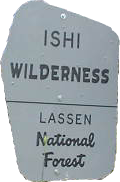 This wild places program is part two of Steve's exploration of the mysterious Ishi Wilderness. This wilderness is in the Lassen National Forest, in northeastern California.
Steve started hiking from the Deer Creek trailhead, and explored a couple of miles into the wilderness. He feels a heightened appreciation for the way the Yahi lived, and discovers another, a modern mystery.