Update: Using All Fours, part 2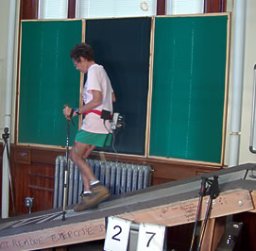 This skills program is part 2 of our look at the science and skills, myths and fact around trekking poles. Is hiking with poles a trendy gimmick, or a valuable skill? (This is an update of our edition 87 originally presented on May 24, 2007.)
Julianne Abendroth-Smith talks about the results of research into the effects on the body of hiking with trekking poles. She's a biomechanics professor at Willamette University in Salem, Oregon.
We hear from Jayah Faye Paley, an author and educator, and co-host of an educational DVD, POLES for Hiking, Trekking & Walking. Jayah's web site, Adventure Buddies, provides more information about her educational products and services. Jayah describes basic skills for using trekking poles.
Julianne Abendroth-Smith updates us on the very latest scientific results about the effectiveness of trekking poles and the effects of using them.