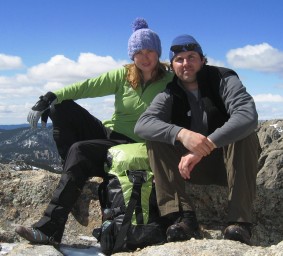 This skills program presents the Leave No Trace principle of Be Considerate of Other Visitors. This is the fourth and final edition in a series featuring the Leave No Trace traveling trainers.
We hear J.D. and Emily in several situations where someone didn't consider this seventh principle of Leave No Trace. J.D. and Emily summit a peak, encounter a cyclist on the trail, and try to get some sleep in a campsite.
Emily and J.D., along with the other Leave No Trace traveling trainers, maintain the Traveling Trainers Blog.
The music from the party in the adjacent campsite is Why don't you tell me by the band One Day Remains, available from the PodSafe Music Network.