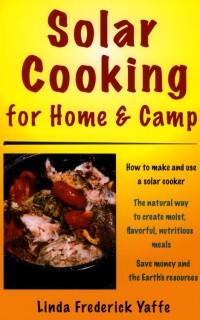 This skills program is a piece of cake. Well, really it's about baking a cake, in camp, without a fire or a stove.
Steve returns to visit the kitchen of backcountry cooking author Linda Frederick Yaffe. Ms. Yaffe is the author of the books Backpack Gourmet, Solar Cooking for Home and Camp, High Trail Cookery, and The Well Organized Camper.
Our guest backpack gourmet gives us an introduction to baking a cake with a homemade solar oven. Without fuel or fire, she bakes a delicious gingerbread cake. Find out how you can make these kind of fun foods yourself on your backcountry trips. She offers to tell us about a more packable solar oven in a future program.
Ms. Yaffe mentions the non-profit organization, Solar Cookers International, which she recommends as a source for appropriate cook pots and pans. Follow the supplemental information link below to get the complete recipe and pictures of her cooker and the cake.