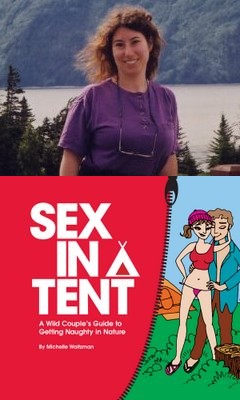 This skills program provides some ideas on how to have a romantic camping trip. Outdoors folks have this image of being tough, and of facing risky challenges in adverse situations. But there's also a softer, warmer type of outdoor adventure.
Steve talks with Michelle Waitzman, the author of the book, Sex in a Tent: A Wild Couple's Guide to Getting Naughty in Nature. Michelle talks about how to look for an outdoorsy partner. She tells the story of author Kathleen Meyer's search for the perfect match.
How do you get a less outdoorsy sweetie into your tent? And what are some of the benefits to your relationship if you do? Michelle retells some of the stories she gathered for her book.
We had to edit out some of the interview from this G-rated version. WildeBeat members can download those portions from our WildeBeat Insiders web pages.
Michelle invites you to share your stories about romance in the wilderness on her blog, Love in a Tent. We invite you to share your wilderness love stories by calling our toll-free comment line at 866-590-7373.