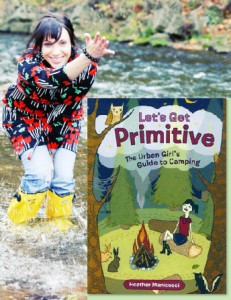 This skills program is an introduction to how life-long urbanites can discover camping. What happens when you take a city girl to the woods?
Steve interviews Heather Menicucci, the author of Let's Get Primitive, The Urban Girl's Guide to Camping. Heather talks about the boyfriend who seduced her with the outdoors, how she made the transition from neurotic New Yorker to nature girl, and some of the things you need to know to get out of the concrete jungle and into the primeval forest.
What is pastoral paranoia, and how do you cure it? Heather Menicucci says that it's all in getting a dose of nature and discovering what you've been missing.
Heather invites you to share your fears about getting out of the city and into the wilderness at her blog, Let's Get Primitive. We invite you to share your story about how you got out of the city and discovered camping and nature by calling our toll-free comment line at 866-590-7373.