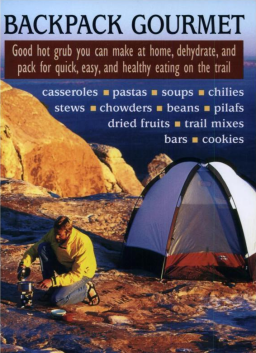 This skills program is a guide to cooking and dehydrating a gourmet bouillabaisse soup for your backcountry trips. A lot of people think you can't take food this good on the trail.
Steve visited the kitchen of backcountry cooking author Linda Frederick Yaffe. Ms. Yaffe is the author of the books Backpack Gourmet, Solar Cooking for Home and Camp, High Trail Cookery, and The Well Organized Camper.
Our guest backpack gourmet gives us an introduction to dehydrating our own meals from gourmet recipes and ingredients. Listen to this show, and learn how to make four servings of delicious soup fit in a small plastic bag weighing four ounces per serving.
Follow the supplemental information link, below, to get the complete recipe, and pictures of the soup.
We'll hear more from Linda Frederick Yaffe in a future program. WildeBeat members can download a longer extended version of the interview from the WildeBeat Insider web site.