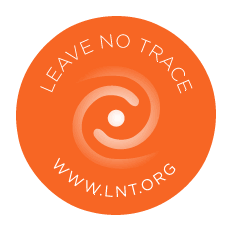 This skills program presents the Leave No Trace skills for minimizing our impact on wilderness areas. This is a remix of our show number 4 of July 18, 2005.
Steve encountered hikers on the trail last week in the Lassen National Forest, and tested them on their knowledge of Leave No Trace principles. Then we replay portions of our 2005 interview with Ben Lawhon, the education director of the Leave No Trace Center for Outdoor Ethics. Ben quizzes Steve on his low-impact wilderness skills.
The Leave No Trace organization offers hundreds of training classes around the country, ranging from two hour introductions to week-long master classes. They have partnerships with parks, equipment manufacturers, commercial outfitters, major media outlets, and small non-profit organizations like ours. Check the training schedule on their web site for opportunities to learn these minimum impact skills from a qualified volunteer.