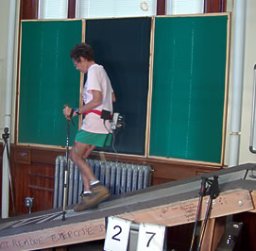 This skills program is part 2 of our look at the science and skills, myths and fact around trekking poles. Is hiking with poles a trendy gimmick, or a valuable skill?
Julianne Abendroth-Smith talks about the results of research into the effects on the body of hiking with trekking poles. She's a biomechanics professor at Willamette University in Salem Oregon.
We hear from Jayah Faye Paley, an author and educator, and co-host of an educational DVD, POLES for Hiking, Trekking & Walking. Jayah's web site, Adventure Buddies, provides more information about her educational products and services. Jayah describes basic skills for using trekking poles.
Trekking poles can have a destructive effect on the trails that shoes alone don't have. Ben Lawhon, the education director of the Leave No Trace Center for Outdoor Ethics, talks about those effects.
Members of the WildeBeat can download an additional bonus segment, featuring Jayah Faye Paley in a beginner's tutorial about proper pole use. Look for the link in our insiders newsletter.