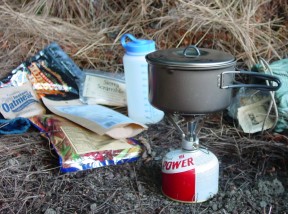 This skills program is part two of an interview with Mary Howley Ryan, the nutritional advisor for NOLS, the National Outdoor Leadership School. She's also the author of the NOLS Nutrition Field Guide.
Mary continues the interview, talking about how to plan food for a wilderness trip, and about some good choices for food. She pointed to a couple of resources, both in the interview and afterwards in e-mail, including:
See below for a bonus clip from the interview. Mary answers some questions about people who don't feel like they can eat in the wilderness, and about the special problems of diabetics and people who suffer from wheat or gluten intolerance.