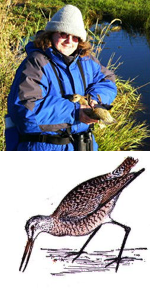 This skills program is an introduction to birdwatching. The wildlife you're most likely to see on any wilderness outing are birds, and they're certainly more interesting if you can tell them apart.
In this edition, we hear from Shana Stearn of BirderBabes.com. Shana taught Birdwatching 101 at the Godwit Days Spring Migration Bird Festival in Arcata, California. Arcata can claim to be one of the top birding locations in the country.
Shana talks about her Seven S's of bird identification: Shade, shape, silhouette, signs, sounds, sweep, and surroundings. She explains the gear you need to get started, and some other tips for beginning birdwatchers. Shana's web site, BirderBabes.com has large collection of bird watching reference information.