Sierra Backcountry Ski Trails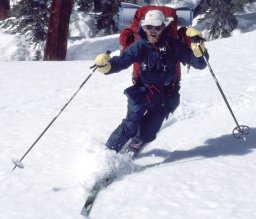 This skills program is an interview with Marcus Libkind. Marcus wrote the most comprehensive and widely used trail guides for backcountry ski tours in the Sierra Nevada:
If you want to explore the backcountry on skis, Marcus recommends getting lessons and practice at groomed-track cross-country ski resorts first. The Cross Country Ski Areas Association has a directory of them. One good beginner's guide to winter backcountry skills is Allen & Mike's Really Cool Backcountry Ski Book.