A Winter Storm Warning, part 1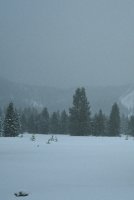 This skills program tells the story of backpacker Mike Bargetto and his three relatives, who were caught in an unexpected snow storm in October of 2004. The story describes their hike in California's John Muir Wilderness from Courtright Reservoir to Rae Lake, and the conditions they encountered there.
In part two, we'll present the rest of Mike's story, and some advice for safely enjoying late season wilderness travel.