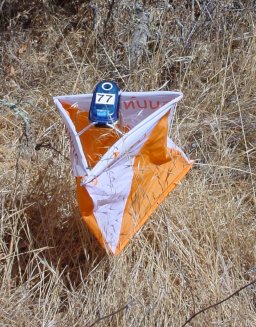 This outings program is part two of a look at the sport of orienteering. You'll win this race by getting lost the least often, because it's all about your navigation skills. Participating in orienteering events can significantly improve your backcountry navigation skills. (Part one is here.)
Steve attends an orienteering meet organized by the Bay Area Orienteering Club at California's China Camp State Park. Long-time club member Terri Ferrah explains the e-punch system used to track progress on an orienteering course. Tyler Atherton and his fellow Boy Scouts take off on a beginner (white-level) course. We hear from Mikkel Conradi, who designed the course and the map using O-CAD software. Erin Majors from Roseville, California, and Dana Koontz from Larkspur, California, talk about their experiences orienteering. Gary Kraght, a past president of the United States Orienteering Federation, sums up orienteering's wide appeal.
If you really want to master map and compass navigation in the wilderness, then orienteering is one of the best ways to learn. You can find a local club through the United States Orienteering Federation.
WildeBeat members can download a compete recording of Scott's 12-minute beginner's clinic from our WildeBeat Insider web pages.