Inner-City Outings, part 2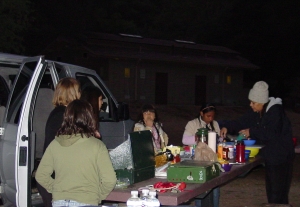 This outings program takes us on a campout with the Sierra Club's Inner-City Outings (ICO) section. This is part two of a follow up to our original program on ethnic diversity among wilderness users. (Part one is here.)
Steve visits a campout led by the ICO at the Arroyo Seco Campground in the Los Padres National Forest. We hear from:
Gabriella, a campout participant and four-year veteran of ICO outings
Debra Asher, the national administrator of the Sierra Club's Inner-City Outings
Larry Volpe, a fifth-grade teacher and ICO leader
Graciella, a campout participant
Francesca, Graciella's mother
The Sierra Club's Inner-City Outings program continues to expand, entirely due to the energy of it's volunteers. But there are always more schools and youth organizations that would like to add outdoor outings to their programs. To find out more about volunteering as a leader, see their Get Involved page. To find existing groups that might be able to organize outings for your school or youth group, see their Local Contacts page.