All Around Lake Tahoe, part 1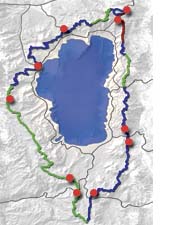 This outings program is a visit to the Tahoe Rim Trail. The Tahoe Rim Trail Association celebrated their twenty fifth anniversary by leading fifteen people on a through hike of their 165 mile trail.
Steve hikes from Echo Summit along a section of trail shared by the Tahoe Rim Trail and the Pacific Crest Trail. He meets the hikers at their mid-trip camp at Showers Lake. From there, he hikes with them to Echo Lake.
Steve talks to:
Steve Andersen, the president of the Tahoe Rim Trail Association
Nicole Anderson, the youngest member of the party
Gary Hanneman, the eldest member of the party
Nada Vogt, one of the support volunteers
Lorenz Robinson, perhaps the participant with the least prior outdoor experience
Next week's show will feature wrap-up interviews with some of the trip's participants.